EHO announces a job opportunity in the position of administration and finance assistant in project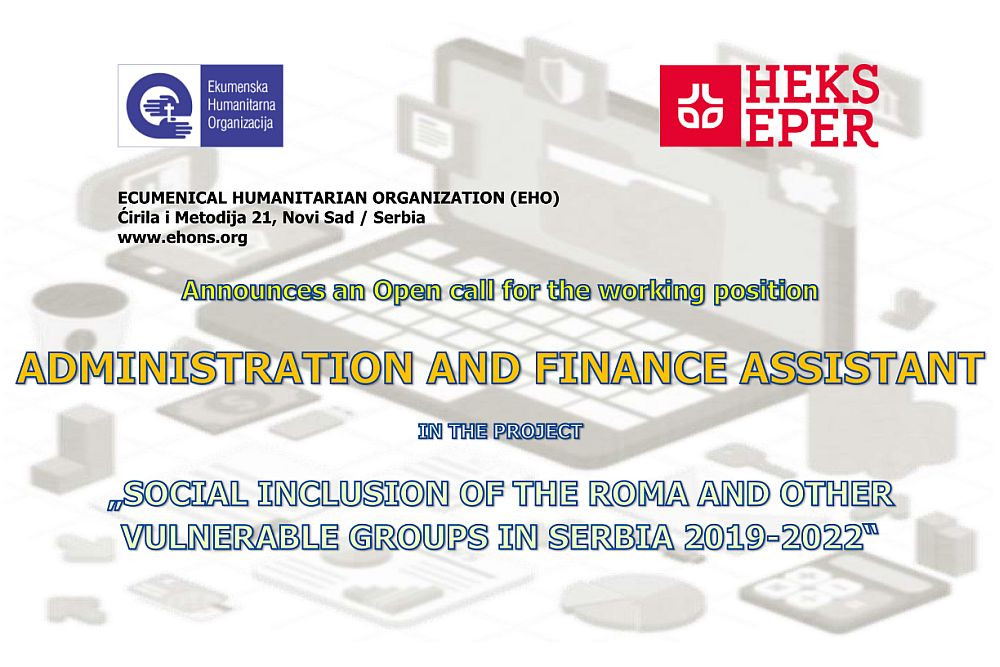 18. Mar 2021.
Ecumenical Humanitarian Organization (EHO)
Ćirila i Metodija 21, Novi Sad / Serbia
www.ehons.org
Announces a job opportunity for the position
ADMINISTRATION AND FINANCIAQL ASSISTANT IN THE PROJECT"SOCIAL INCLUSION OF THE ROMA AND OTHER VULNERABLE GROUPS IN SERBIA 2019-2022"
Job title:
Assistant for administrative and financial operations in project
Status: 9 months part time working contract with possible prolongation

Job description:
• participates in the implementation of the project according to the description of activities from the project proposal;
• works in a team with the Project Coordinator and other associates for the purpose of efficient and timely realization of the project and exchange of data, information and improvement of work;
• performs administrative and financial tasks on the project;
• participates in the financial analysis of the project and regularly monitors the project costs and funds;
• Provides the necessary support to the project coordinator during monitoring and evaluation project activities;
• prepares periodic and final financial reports;
• makes proposals for the improvement and better functioning of the project;
• keeps tabular records of revenues and expenditures at the project level;
• collects invoices, pro-forma invoices and other documentation for the project;
• filing, logging and archiving of documentation;
• announces public procurements and collects bids;
• communicates as needed with donors, partners, and beneficiaries as well as with representatives of other EHO projects;
• performs other tasks as ordered by the project director and coordinator.


Required qualifications:
• higher education (MA level) economics;
• experience in financial reporting, planning, analysis, public procurement;
• knowledge of the business context of non-governmental organizations;
• active knowledge of English;
• good knowledge of computer work, especially MS Excel;
• category B driver's license, active driver.


Desirable experience:
• Minimum one-year work experience related to administrative support in project accounting and finance;
• desirable previous work in humanitarian or development organizations-projects (civic, non-governmental sector), as project administrators and / or project associates.


Expected skills and abilities:
• ability to work in a team and under stress;
• communication and organizational skills;
• creativity and innovation.

Working environment and working conditions:
• dynamic work environment;
• positive work atmosphere and work environment;
• possibility of professional development and further learning;
• full-time work from 7.30 to 15.30 on working days, possible overtime work, as well as work during the weekend as needed.

The application for the competition should include a CV and a motivation letter.
Send your application to: konkurs@ehons.org , deadline is: 26 March 2021.