Competition for hiring a coordinator of local project activities in Smederevska Palanka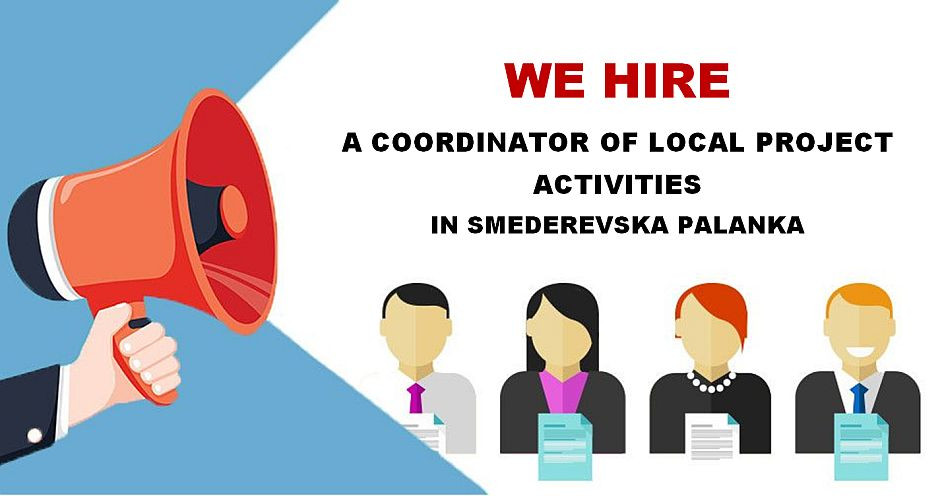 17. Aug 2021.
ECUMENICAL HUMANITARIAN ORGANIZATION (EHO)
Announces a competition for hiring
OF THE COORDINATOR OF LOCAL PROJECT ACTIVITIES IN SMEDEREVO PALANKA WITHIN THE COMPONENT OF EDUCATION OF THE PROJECT "SOCIAL INCLUSION OF ROMA AND OTHER VULNERABLE GROUPS IN SERBIA 2019-2022"
Job title: Project Activity Coordinator for the Education component
Status: Employment contract
Job description:
• participates in the implementation of the project according to the description of activities from the project proposal;
• coordinates the work of the team of local "tutors" in Smederevska Palanka, organizes trainings, workshops, meetings and field visits to families participating in the project;
• works in a team with the Project Coordinator and other associates in order to efficiently and timely implement the project and exchange data, information and improve work;
• prepares documentation necessary for the organization and smooth implementation of "tutoring" project activities in Smederevska Palanka;
• provides the necessary support to the project coordinator during the monitoring and evaluation of project activities;
• prepares periodic and final reports on implemented activities;
• gives proposals for the improvement and better functioning of the project in the field of education and additional support to students coming from socially disadvantaged families;
• communicates as needed with donors, partners, and beneficiaries as well as with representatives of other EHO projects;
• performs other tasks as ordered by the project director and coordinator.
Required qualifications:
• higher or higher education - field of education / teacher / pedagogue or social protection / sociologist / psychologist;
• experience in the field of education and / or social protection and project implementation;
• active knowledge of English;
• good computer skills;
• category B driver's license;

Desirable experience:
• minimum three years of work experience in the field of education or social protection;
• desirable previous work in humanitarian projects and work with vulnerable groups;
• A Roma who meets the requirements of this competition will have an advantage in hiring;

Expected skills and abilities:
• ability to work in a team and under stress;
• sensitivity to work with children, especially children coming from the Roma community;
• communication and organizational skills;
• creativity and innovation.

Working conditions:
• field work and work with a group of at least 8 associates;
• work with families and children from the Roma community and other vulnerable groups, including family visits / field work;
• working hours according to the needs of project activities / tasks, work during the weekend as needed and travel to other places to exchange experiences and good practices in providing additional support to children at risk.

The application for the competition should include a CV and a motivation letter.
Send the application to the e-mail: konkurs@ehons.org, with the subject "Prijava_Konkurs_Koordinator_tutoring", no later than August 23, 2021.