EHO volunteers were acquainted with the results of the Ecxhange project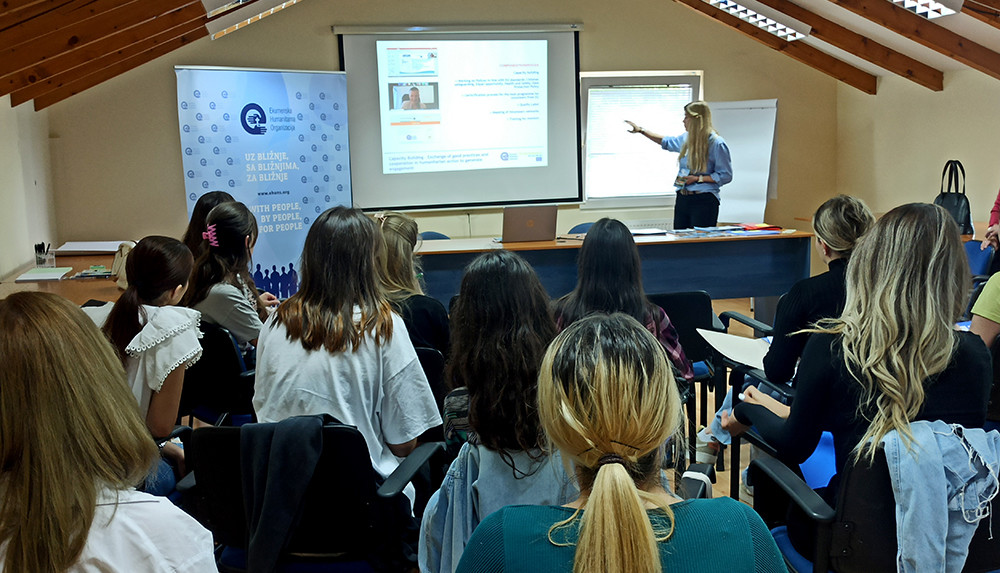 30. May 2022.
During the professional training for volunteers involved in the activities of the project "Field work with children at risk of involvement in life on the streets and / or street work" were presented the results of our work within the project " Exchange of good practices and cooperation in humanitarian action to generate engagement ". As an organizer of volunteering has EHO through many years of experience in providing professional experience to young people and students through volunteering provided a chance for professional training. In support of this, the topic of the professional training "Conflict Management" was rounded off by introducing the present volunteers to the contributions of the Exchange project for aspects of the quality of organing volunteering. The possibilities that were opened thanks to obtaining a certificate confirming the quality of EHO's work, issued by the European Commission, were also presented. As in the previous 4 organized events where the results of the Exchange project were shared, the welcome booklet was assessed as a significant tool for obtaining information about the volunteer organizer, in this case EHO.
The mentioned project is being realized by the EHO together with MHD Merhamet Sandžak from Novi Pazar and Čovekoljublje, the Charitable Foundation of the Serbian Orthodox Church from Belgrade, under the mentorship of ADRA Slovakia (ADRA).
In addition to these partners, the following organizations are involved in the project: Asociacion CDRO (De Cooperacion para el desarrollo rural de occidente), Guatemala, Asociacion de servicios educativos y culturales, Guatemala, Asociacioj jesus obrero, Peru, Fundacion Alboan, Estonia, Fundacion servicio jesuita refugiados Colombia, Girl child network, Kenya, Medicus mundi Italia, Servizio volontario internazionale, Italy, The Ethiopian catholic church social and development commission, Ethiopia, ASPEm, Italy.
The funds for the implementation of project activities are provided from EU funds, within the EU Aid Volunteers program.