Happy Day of Volunteers to You!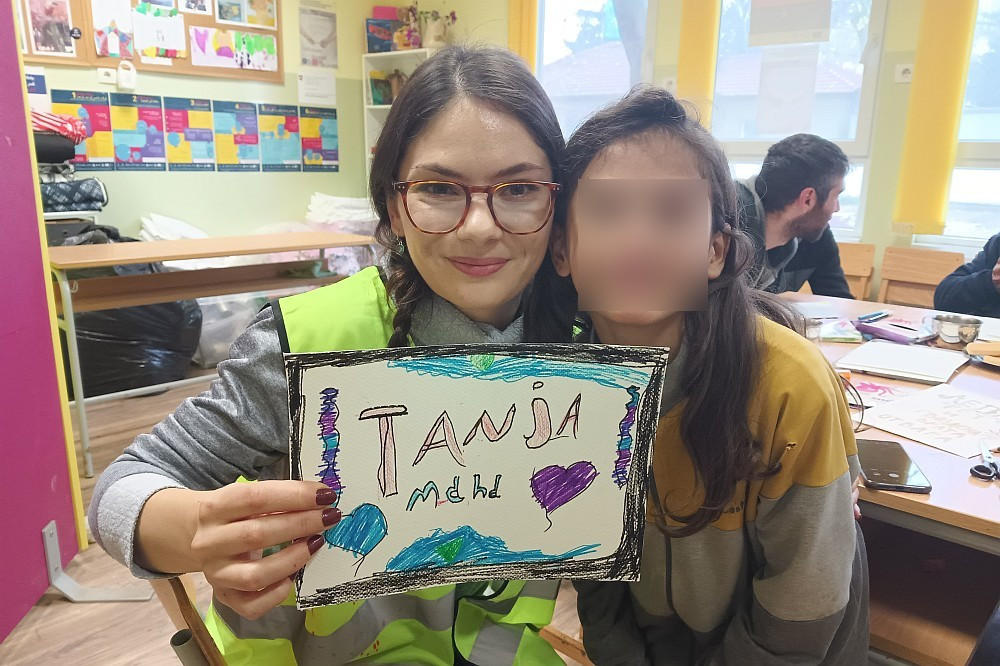 05. Dec 2022.
Reception centers in Subotica, Sombor and Šid are places where occupational workshops within the EHO project "Humanitarian Assistance and Protection Related Interventions to People on the Move in Serbia" are held since August. On the occasion of the Day of Volunteers wed' like to point out a story about our volunteer Tatjana.
This text is authored by Ivana Inđin, multimedia artist and drama therapist who is also facilitator of artistic occupational workshops in Sombor and Subotica.
Tatjana Marticki, volunteer in occupational artistic workshops shares: "Be open and step out".
I met Tatjana at the beginning of the project. I was told that she finished Arts Academy, that she is young and from Čurug/Serbia. All of this instantly echoed in me: to come from a such small town, to enroll and graduate in Arts Academy, to be interested for volunteer work which is a complex work concerning people on the move and thus be available to travel and visit reception centers in Subotica and Sombor.
These first hints and mutual travels through activities in months that followed have confirmed that Tatjana is indeed a special person.
Her graphics reflect her inner depths through fine-grained structures of pastel colors, both stirring and inspiring with their tranquility.
She applied for project participation because, in her words, she thought it could be a new and completely unusual opportunity to encounter one current global, yet insufficiently promulgated phenomena of massive population migration with all social, economic and cultural changes brought alongside. What made her additionally interested and motivated to join is the artistic and creative form of work featured in my artistic workshops. "I became interested for the application of artistic work and articulation not for the purpose of making of some artistic product, but to create a positive, working and collaborative atmosphere where everybody is welcome and where has chance to overcome speech and cultural barriers using visual craft language, to become a part of collective and, if anyhow possible, palliate individual living situations. Thus contemplating art in this way, as of art therapy and of numerous possibilities to help individuals, excited myself as an visual art creator and inspired me observe forms and objectives of artistic creation from some new perspectives."
To be a good volunteer, it entails having developed communication skills. Tatjana is quiet, does not waste words unnecessarily, concise, at first glance she might seem distant and closed, however she is very present actively listening and adequately reacting with carefully chosen words using English and Arabic through Google translation service. She communicates with thoughts, looks, small movements, line and colors, and with smile.
At the project start she was a little taken aback, amazed, perhaps a little confused by different cultures, contents, ways and conditions of work, however like any thoughtful artist, became interested and open for fluidity of new ideas. Participation in this project enriched her with music from Syria, Pakistan, Afghanistan, Egypt, Morocco, India, Ghana, Iran...
Tatjana emphasizes:
"I was impacted with: number of participants in the Subotica camp who were circled around imaginary podium in the camp-yard, danced among acacia trees, or clapped along the music and loudly cheering the dancer, however also with a quiet working atmosphere in closed spaces in Sombor camp when all together, with warm coffee and tea, make a concentrated attempt to master the problem of labyrinth sketching."
Authentically interested for participants, their daily routines, personal stories and cultures they are coming from. Open to learn, help and reconsider, Tatjana acknowledges that both difficulty and beauty are present of this unique work "in many moments of individual acquaintings, understandings and exchange of various living experiences with the people that are on the move".
Tatjana says: "Allow yourself to be open and step out in something new and different. At first it may seem outside of your usual zone of the known and comfortable, but the dwelling itself in reception centers, including the work to meet people from different age, cultural, societal and economic groupations, as well as individualities of each and every workshop participant, offers a rich, and in opinion, a rare and valuable firstly living and also professional experience. This makes possible to gain diverse insight and learning about people foreign to us and their cultures, but also to know ourselves better and to observe our own dwelling place and our living circumstance from the entirely new set of angles."
Tatjana was freshly nicknamed "Tanađi" and "Tanđi" at her closing workshop by Maha when Maha played verbally with Tatjana's other nickname. I thought that perhaps there is a special reason for this. So I found that the term Tanđi stands for a "heavenly messenger", a Tanađi for the one who is "curious, with vision and who brings the new".
Just like Maha "Tanja I Love You!" we also love you. Happy Day of Volunteers!
The project is financed by HEKS/EPER, Switzerland.