Support to the employment of marginalized groups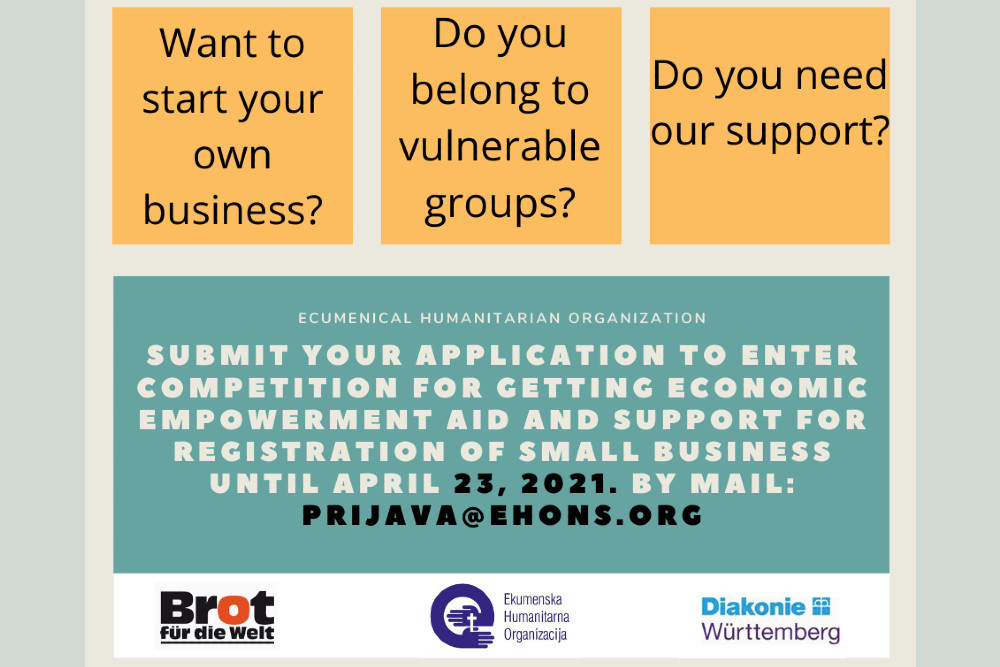 15. Apr 2021.
All interested private persons from marginalized groups in Vojvodina, who plan to register their revenue generating activities, are invited to apply for grants for economic empowerment through the e-mail prijava@ehons.org. The call is open until April 23, 2021.
Grants will be awarded for the purchase of new machines / tools / equipment, in RSD equivalent amount of up to 3000 EUR on the day of purchase of equipment needed to start or improve their own business. In addition, beneficiaries shall be provided with support for company registration and payment of bookkeeping services for a period of 6 months and also entitled to receive support of a consultant throughout the duration of the project.
To apply for this support, you need to belong to marginalized groups, to have a residence in one of the municipalities of Vojvodina, to be unemployed, to have a low family income, not to have a record of being supported by similar projects, to have a good and sustainable business idea and experience in performance of the planned work. One of the preconditions to win the grant is regular attendance in trainings for the purpose of strengthened capacity and increased entrepreneurial awareness. Trainings shall be organized in the EHO center in Novi Sad, by the end of April 2021.
The ranking of candidates will be based on the fulfillment of the stated criteria and the evaluation of the success of the business idea.
The three-year project "Improving the socio-economic situation of the marginalized in Vojvodina through education and economic empowerment" is implemented by the Ecumenical Humanitarian Organization with the support of the podršku Brot für die Welt and Diakonie Württemberg/Hoffnung für Osteuropa frrom Germany.