EHO participated in a local level stakeholder networking event in Novi Sad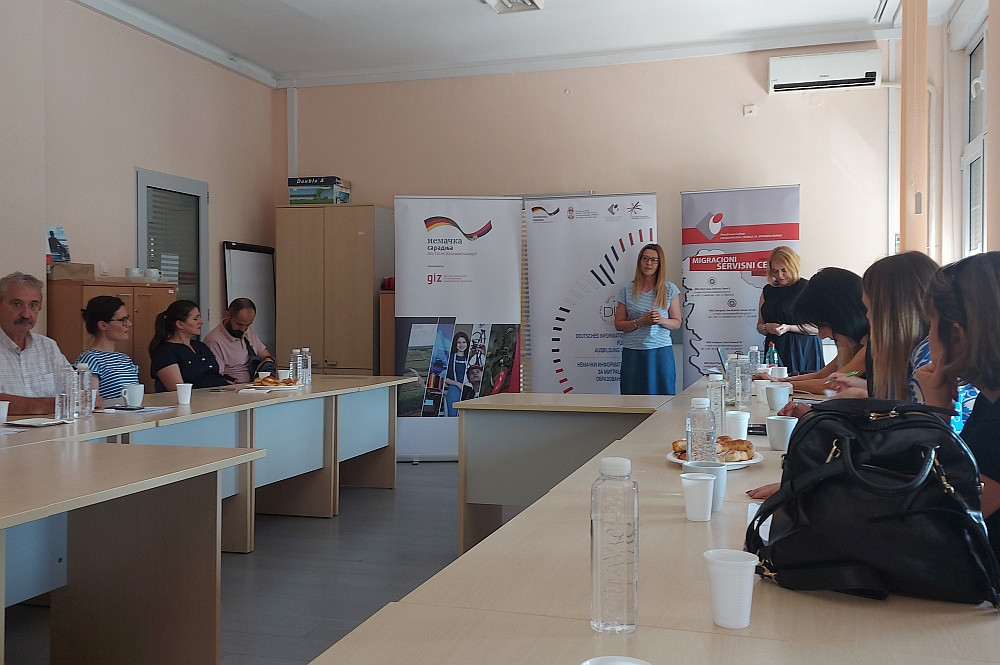 30. Jun 2022.


On the occasion of the DIMAK Hotspot Unit Kickoff,

EHO participated

at this event held on

June 29, 2022

in premises of the

National Employment Service in Novi Sad.
This Hotspot unit in Novi Sad is part of the German Information Center for Migration, Vocational Education and Career (DIMAK) and will work within the Migration Service Center of the National Employment Service in Novi Sad.
On behalf of the Government of the Federal Republic of Germany and the Federal Ministry for Economic Cooperation and Development (BMZ) , the German Organization for International Cooperation (GIZ) in Serbia implements the global programs "Migration for Development" (PME) and "Migration and Diaspora" (PMD). The global PME program is part of a broader initiative called "Return to New Opportunities" (PPH). Both programs offer comprehensive counseling at the DIMAK Center.
The meeting was organized to present the future activities of the DIMAK Hotspot unit in Novi Sad, related with providing assistance to returnees from Germany and other countries including local vulnerable population, aiming toward their social and economical (re)integration into life in Serbia, thus providing advisory services and information related to regular migration. At the same time, the meeting brought together relevant local level stakeholders, i.e. from local self-government, state institutions and civil society organizations, who are in direct contact with returnees and socially vulnerable categories of society, in order to establish cooperation between these stakeholder groups. The event participating parties involed representaives from the DIMAK and PME and PMD programs, from several involved sectors of the National Employment Service in Novi Sad, the Center for Social Work in Novi Sad, the Provincial Office for Roma Inclusion, the City Coordinator for Roma Issues, leaders of the Employment Group in Novi Sad, a representative of the Police Administration, the Association of Roma Students, Praxis, including the director of the school for primary education for adults in Novi Sad.
On that occasion, EHO representatives presented their work with these groups within the EHO project "Assistance for a new start", which is part of the PME program in Serbia, as well as the project "Improving the socio-economic situation of marginalized in Vojvodina through education and economic empowerment" and invited those present to further improve cooperation in this area.